28 October 2012
Ramblings on Sandy
by John D. Muccigrosso

Public officials in my area (northern NJ) seem to be doing all the right things: evacuating low-lying areas, shutting down public transportation, sending out all kinds of warnings. For my part, I find myself driven to skepticism by the slightly creepy enthusiasm of the media weather people...as usual. In this instance, this was fueled by the way a rather hasty mention on the Weather Channel Saturday morning of the injection of some dry air from the southwest which resulted in a serious drop in rainfall south and east of the storm.

So a few thoughts, not all of which are cynical: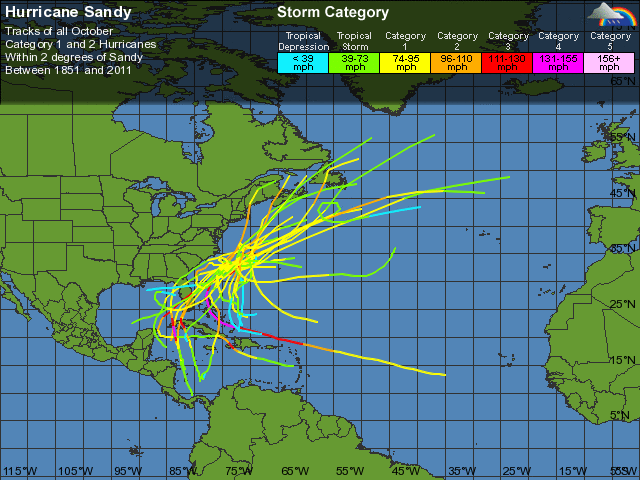 The Modeling - Everyone keeps talking about the uniqueness of this storm. It's a strange kind of hurricane now, and is likely to lose hurricane status soon. It's also supposed to take an unprecedented left-hand turn, from what I can tell. Here's a plot of historical hurricane paths for hurricanes that were very close to Sandy's position. You'll notice that none of them takes such a sudden change in direction. So how good are the models at handling this kind of thing? We'll find out tomorrow morning, when Sandy either turns or doesn't. I'm genuinely curious...and not only because I'm not interested in bailing out my basement tomorrow night. (For the record, right now the consensus puts landfall somewhere in southern NJ.)
Rainfall - Last year we got seriously dumped on my Irene, about 6" in less than a day in my neck of the woods. In addition we'd had a fairly wet lead-up, so the ground was already full of water. This year in contrast has been average or even a bit dry, and Sandy is forecast to leave a total of 4" of rain over several days, starting some time tonight. I'm sure the coastal and riverine areas are gong to be much worse, but we're likely not to have as much potential for in-house flooding as last year. (If the power goes, we're definitely going to get water, but right now my sump is totally dry.)
Some people on the air (e.g., Al Roker) are giving warnings for 7-10 days of power outages. Now I'm sure that it's very possible that some small isolated areas could experience such a long absence of power, but most of us are very likely not to. In part this is because of the response to all of the problems after last year's Snowtober event, which resulted from many, many fallen trees and limbs, and the subsequent difficulty of getting around in the aftermath. I'm sure the state hasn't solved all the problems of last year, when only the rare spot had outages even approaching a week, but it's likely taken care of some of them, so we should see fewer problems this year.
Finally this timing of this year's storm is a lot better than last year's pair (Irene and Snowtober), both of which hit on Friday/Saturday. This year we started getting warnings on Thursday, and so had the entire weekend—instead of a few workdays—to empty out the shelves at our local hardwares stores (and surely others were better behaved than we've been and prepared in advance).
Bottom line? While I won't be surprised if the models are right, and the coasts really get hit hard, and the power goes out for a while, I do think the overall situation may well be better than last year (either big storm), and our personal one won't be any worse. But we'll all know much more in just a day.




Meanwhile...gotta find those AA batteries for my alarm clock.

tags: